20-07-2014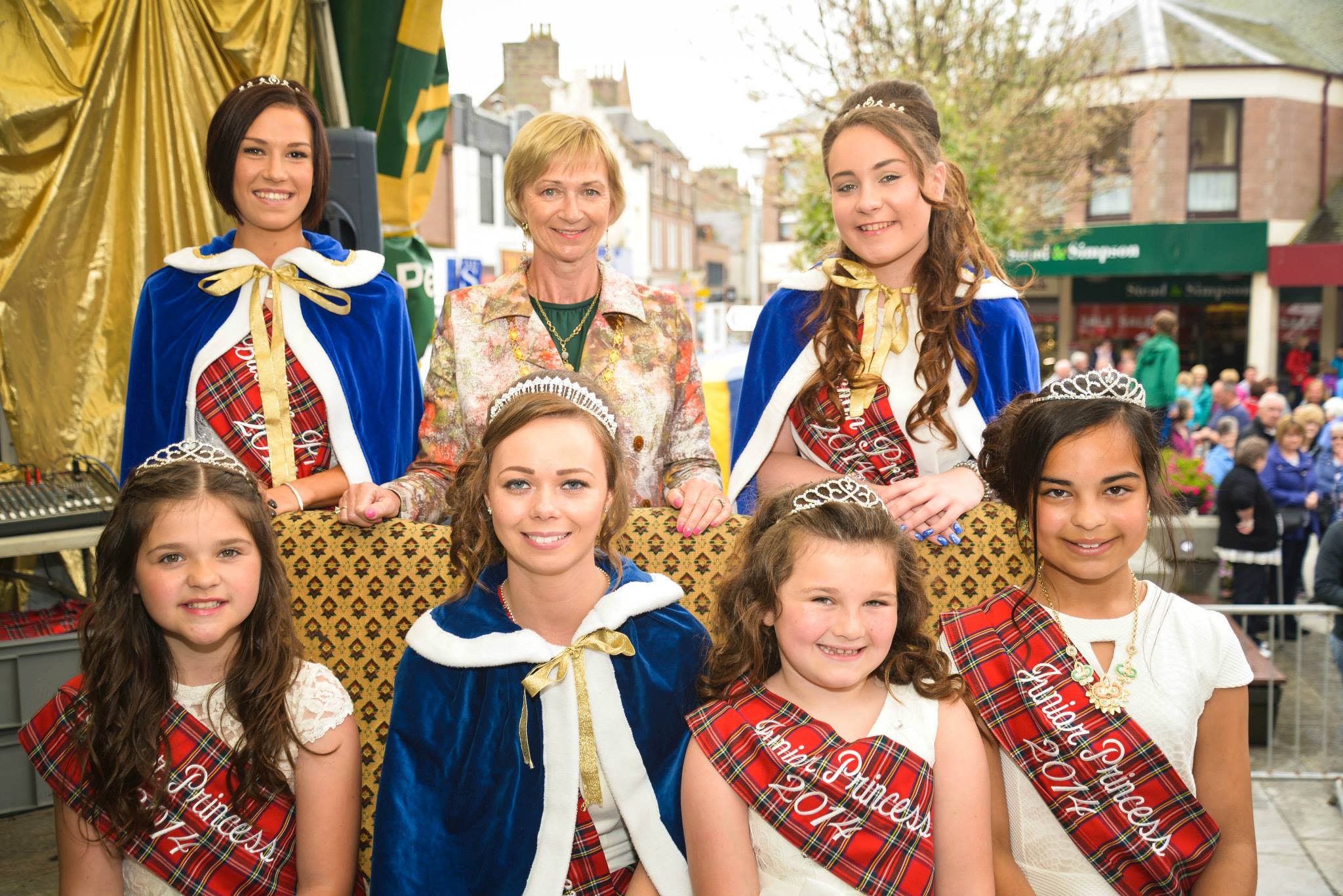 Heavy rain and thunder didn't dampen spirits as the 2014 Buchan Queen, her Princesses and Junior Princesses were officially crowned on Saturday.
Deja Vu DJ Ryan Murdoch kicked off the celebrations in Drummers Corner with the latest tunes to help build the party atmosphere as host and Scottish Week vice chairperson, Scott Ross, welcomed everyone to the 53rd Scottish Week.
Touted as being the best dance team in Aberdeenshire, the 6.1.0. Dance Academy from Fraserburgh got the afternoon entertainment off to an energetic start with around 20 dancers having the crowd cheering and clapping along.
Then it was time for a Disney Sing-a-long with local performers taking turns to sing their favourite disney tunes, much to the delight of those young and young at heart in the audience.
It was then time for Scottish Week regulars, the Lawrence Dance Academy to showcase their routines of traditional highland dancing.
The local dance school have been involved with Scottish Week since the 1970's and there were plenty of mums and dads looking on proudly.
Barbara Ann Burnett was then introduced and sang a number of doric and scots folks songs.
She had been approached by the committee following her regular appearance at the Sea Songs & Salty Tales event.
Just prior to the entrance of the Buchan Queen into Drummers Corner, Scott had a special surprise for the crowd.
It appeared as though members of the audience started to sing in a flash-mob sing-a-long of the well known hymn 'Amazing Grace'.
Singers representing almost every church in Peterhead had come together to sing and the results had the crowd applauding.
The sounds of the Fraserburgh Pipe Band could then be heard as the royal trio made their way to Drummers Corner.
Scott then welcomed Scottish Week chairperson Terry Moran to share her opening remarks, before introducing Provost Jill Webster to the stage.
The Provost was excited to be back in Peterhead and was looking forward to her first Scottish Week.
She then give an uplifting and positive message to the townsfolk before it was time to have this year's Buchan Queen and Princesses on stage.
Scott briefly spoke to each girl in turn, Stacey Robson, Ashley Mae Stephen and joked with Buchan Queen Natasja Kaminski about their mutual fondness of "selfies".
This gave Scott the perfect excuse to have Peterhead's biggest community selfie with the huge crowd in the background of the photo.
Provost Webster was then asked to crown this year's girls and the Junior Princesses; Jessica Taylor, Jenna Hurangee and Taylor Wilson, were full of smiles before being simultaneously crowned by Provost Webster, Terry Moran and Scottish Week President Elaine Cay.
After the crowning ceremony was over, the girls headed off to visit local care homes.