29-06-2021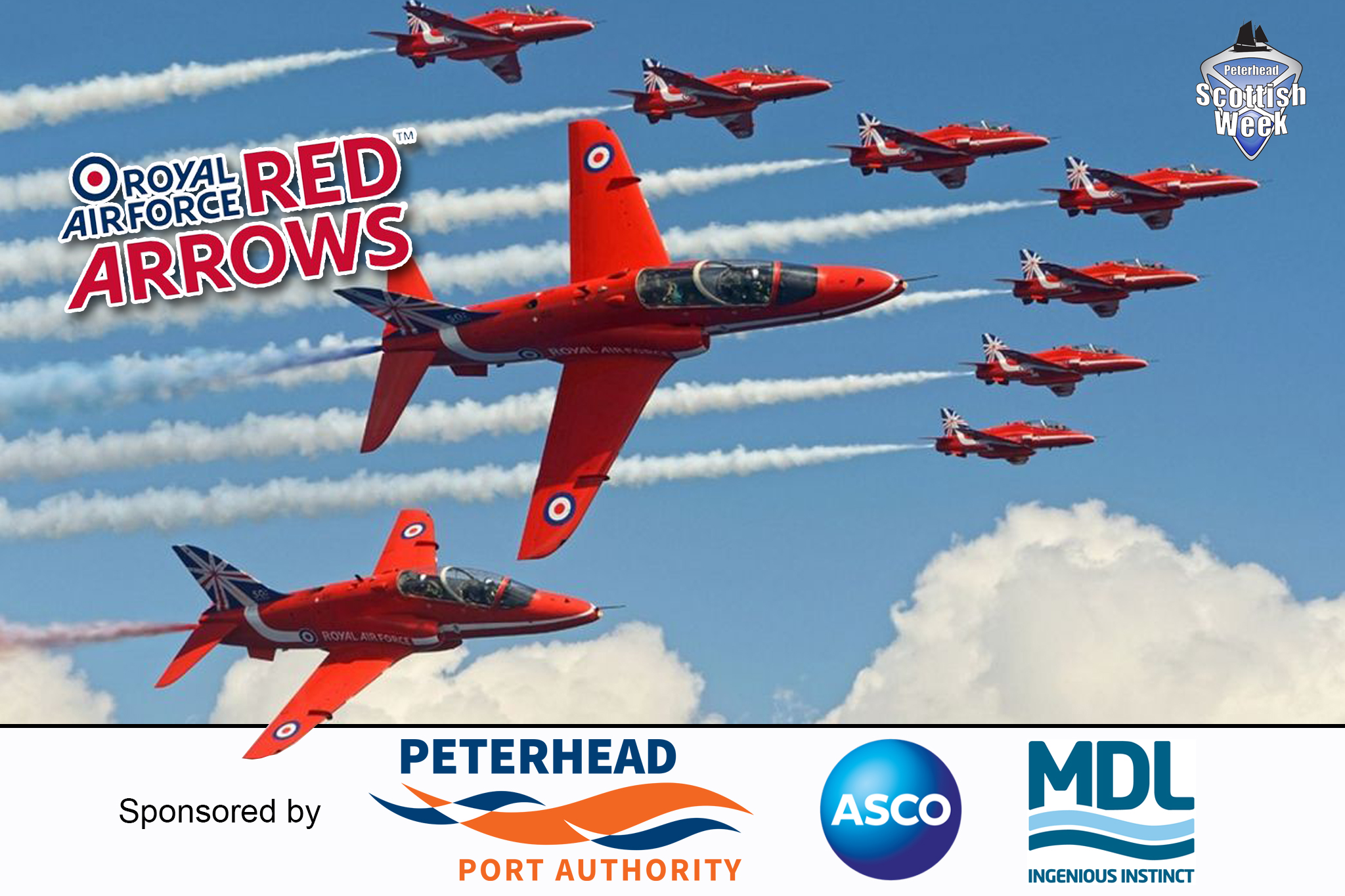 As part of the "59 1/2 Peterhead Scottish Week", the committee have managed to secure the world famous R.A.F. Red Arrows for the 8th time to fly over Peterhead Bay. The display team last appeared in 2018 during the 57th Peterhead Scottish Week.

The Red arrows first appeared on the 'Scottish week' calendar back in 1994 when the programme was highly reinvented. They next appeared in both 1995 and 1996 before perhaps making their most memorable visit in 1999. The same day as the luxury liner, the QE2 was moored just off the breakwater.
The committee managed to secure back to back visits in 2011 for the 50th Peterhead Scottish Week and in 2012, one night before the opening ceremony of the London Olympics. Its last display in Peterhead was in 2018, and this year they'll entertain the local crowd having performed at the British Grand Prix a few days earlier.
This could not have been made possible without of the support of co-sponsors, Peterhead Port Authority, Asco and Marine Development Limited.
Chairperson Karen Day said "The Scottish Week committee have worked hard to secure the display and are delighted to welcome the team back. It's great news and it will be something wonderful to look forward to – let's be honest it's been a pretty dull 17 months! We would also like to thank enormously our sponsors of the event Peterhead Port Authority, ASCO and Maritime Developments Limited. Without their generosity the display would have not been possible."
Simon Brebner, Chief Executive of Peterhead Port Authority said – "PPA is delighted to continue its sponsorship of the Peterhead Scottish Week along with co-sponsors ASCO and MDL and contribute to the overall fun, enjoyment and success of the event, the highlight of which will no doubt be the aerobatic display of the Red Arrows".
Michael Ramsay, ASCO General Manager Northern UK also added "ASCO is delighted to be able to support the Peterhead community by contributing to the town's Scottish Week. We are particularly pleased to be joining with our colleagues across Peterhead Port Authority, as co-sponsor of the Red Arrow's display. It is sure to be one of the week's highlights and we can't wait to see them in action".
The R.A.F. Red Arrows display Team are due to take off at 7:00pm on Wednesday 21st July across Peterhead Bay. Commentary will be broadcast on Waves Radio.
The committee and local authorities would like to stress to all onlookers the need to practice social distancing in line with the Scottish Government COVID-19 Guidelines.
Please note that a section of South Road from Links Terrace junction to the junction at Skerry Drive will be closed to traffic.
A notice of closure will also be in place for the Lido Car Park as a safety precaution for pedestrians. No exceptions will be made.
Scottish Week Team